About Us
For the quality-conscious customers who seek for state-of-the-art winding, tapping & cutting machines, we at Trishul Winding Solutions Pvt Ltd, have been working responsibly as a manufacturer & exporter, since 1992. Our enterprise has been an epitome of integrity & loyalty in the domain. A wide number of industries & individuals have been associated with our organization from day one. They respect & vouch for the quality that we put forward to them through our range of Coil Winding Machines, Foil Winding Machines, Coil Taping Machines and Cut To Length Line Machines. The sole purpose of ours is to stay as much as resourceful, reliable & transparent with each one of our customers as possible across the world.
In our servicing of 27+ years, we have served immensely for the domain with complete dedication. We have been bringing the most productive equipment for the customers that are way ahead of industrial standards. The machines served under the brand name; Trishul are widely recognized and recalled for their superior quality features including high efficiency, easy operability, fast & better performance and long-lasting servicing. And, our endeavor is to keep each offered item within required quality premise of our own personal standards.
With time, we have gained deep industrial knowledge & experience which has become a useful tool for us in order to stay relevant and competitive in the market with changing technology & manufacturing scenarios. Through this, we look ahead to successfully running our business for an everlasting time in the industry.
Policies
To practice customer satisfaction and retention techniques.
To exercise ethical, fair and legal business practices.
To stay professional, punctual and profitable for the respective customers.
To upgrade the work environment with newly introducing technology with time.
Our Approaches
We, being a growth focused firm, have kept improving our work approaches from time to time. Our production techniques have been improvised with changing market scenes. And, we kept molding our organizational processes in more customer-integrated manner in order to ensure their utmost satisfaction every single time they come to procure Programmable Foil Winding Machine, Foil Winding Machines, Cut To Length Line Machines, Coil Taping Machines and Coil Winding Machines from us.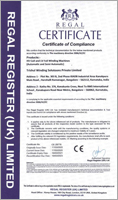 Read More